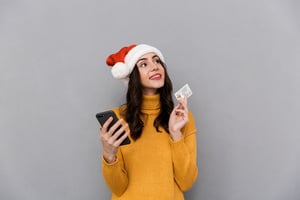 The Federal Reserve Bank of Boston conducted studies earlier this year that produced shocking results. After polling 565 financial institutions, it was revealed that 20% do not offer mobile banking. 14% of respondents also noted that they have no intention of offering mobile banking any time soon. In a world that's so focused on mobile, it may come as a surprise that some banks and credit unions are so uninterested in offering mobile banking solutions. Here are 3 reason why digital banking is worth the investment.
Return on Investment
In-branch visits to financial institutions are down and the use of mobile banking is up. Not only do members benefit from the convenience of mobile banking, but credit unions have some coins to gain as well. Mobile banking cuts down on expenses such as staffing, ATM transactions, and other operational costs. According to a study by Deloitte, mobile transactions are expected to cost 50 times less than in-branch transactions and 10 times less than ATM transactions. Mobile banking also promotes member engagement, which helps to generate revenue and reduce attrition, thus increasing ROI.

Member Satisfaction
Members love mobile banking because it's convenient. With mobile banking, there's no need to book it to the credit union after work to deposit a check before closing time. Mobile banking is available 24/7 and members have access to their accounts and the information whenever and wherever they need it. In addition to convenience, mobile banking is customizable to the needs of each member. Some members might want alerts on every transaction performed, while others may not want alerts at all. Mobile banking is a must-have feature for most members and they'd be remiss to choose a credit union who fails to offer it.
Analytics
There's a lot of data to be mined from mobile banking apps. The top two categories that credit unions consistently monitor are user engagement and acquisition. User engagement really helps to identify which features members are using most frequently and the features that go untouched. Acquisitions can help credit unions learn which marketing efforts are most effective and help drive future marketing campaigns.
While mobile baking is wildly popular, not all financial institutions have embraced it. For those debating whether or not this feature is worth it, the numbers don't lie. Two-thirds of Americans use mobile baking more than any other channel and credit unions who fail to integrate mobile banking will surely miss out. Mobile banking not only helps to attract new members but it keeps existing members happy too. With the ubiquity of mobile banking, it's no longer a stressful and difficult process to implement it or add features such as Remote Deposit Capture (RDC) or card controls that aren't currently being used. Industry experts are now able to create and implement mobile banking apps for credit unions that seamlessly integrate with the core, which is a win for both members and credit unions alike.