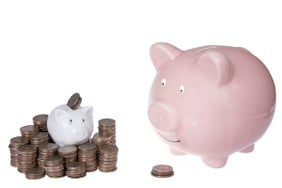 A recent Gallup poll revealed that Americans have very little confidence in banks, only 27% of people have "a great deal" or "quite a lot" of confidence in them. Banks have never recovered from the financial crisis, which began in October 2008. What does an industry do when it's down? File a lawsuit of course! By now you are most likely aware of the complaints from the Independent Community Bankers of America (ICBA), who have filed a federal suit in Virginia over the NCUA's new Member Business Loan rules. Counsel for ICBA contends that community banks have lost millions of dollars in commercial loans to credit unions, claiming they can offer more favorable loan terms because of their tax exemption, and arguing over what they perceive as the loosening of regulatory oversight from NCUA. The reality is, individuals and businesses (especially small businesses) are beginning to replace their distrust for banks with trust for credit unions and their products, including consumer and business loans for their needs.
Credit union business loans, specifically have increased every year since the recession, says Mike Schenk, vice president of economics and statistics at the Credit Union National Association. CU's are more flexible and engaged in the market to be able to offer loans that some banks shy away from. They are more community focused, and can better gauge the potential success a business may have in the region they serve.
Small businesses are more apt to favor other locally owned businesses, and credit unions fit that bill. A business owner whose clients are within the same demographics of the credit union they join, share many of the same qualities. Credit unions focus a good portion of their marketing effort on building relationships. Small business owners especially appreciate this, as this is often the same model they follow in their own businesses. They understand the importance of quality member service, and can better relate with a credit union as opposed to that of a bank.
Since credit unions are nonprofit institutions, whose owners are their members, they are known for focusing their efforts on giving back to their owners with superior service, lower fees, and better rates. So while the ICBA claims play out in court, credit union executives and employees would be wise to continue doing what they do best and promote flexible and competitive loan products, while maintaining strong member service to the community they serve.