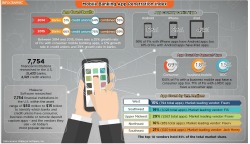 We've used this platform several times to focus on mobile banking this past year. And it was for good measure. Let's break down some stats so you can be confident that your mobile strategy is right for 2016.
From 2014 to 2015, there was a 25% growth rate of financial institutions with consumer mobile banking apps. Thanks to CUTimes for the infographic we shared, we can give you some information to take into your next planning meeting.
Earlier this year, we discussed how expanding the offering of your internet and mobile banking products becomes more important. The more options a consumer has when interacting with your mobile product, and the easier it is to use, the greater the chance you have for adoption. A fully integrated product set, where an end user is NOT redirected to multiple sites, and NOT required to input multiple logins to accomplish varied tasks, becomes the credit unions ticket to member adoption.
The study researched trends from 2014 to 2015 and shows that banks increased mobile apps from 51% to 66%. In the same time, credit unions went from 64% to 76% adoption of mobile apps. Combined for all financial institutions that was a jump from 55% to 69% in just one year.
Consumers are the driving force as they are the majority (69%) that use mobile apps compared to the business market. Business apps make up a very small percent at only 1.8% of the mobile app segments.
And when considering what device most consumers are using, it appears to be a dead heat between Android and iPhone users, so it is integral that your mobile strategy fits both platforms.
The take home message today is that a sound mobile strategy will keep those millennials happy, as well as set you up to transition into the next phase that internet banking technology will throw at us. And if you need a little reminder of how the banking habits of that millennial generation work, remember that:
21% of millennials have never written a physical check to pay a bill.
39% use three or more methods (PC, mobile, snail mail) to pay their bills.
41% pay their bill using their debit card.
38% use apps and mobile tools to make bill payments and view statements.
43% use apps and mobile tools to view bills and transaction histories.
24% use apps and mobile tools to set up automated recurring payments.