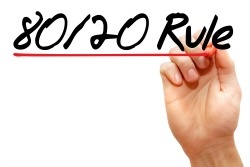 Whichever you prefer to call it - The Pareto Principle, Law of the Vital Few, or even the Principle of Factor Sparsity, it's most simply known as the "80–20 rule." Nearly every business model in existence from software engineering to load testing to sales, roughly 80% of the effects come from 20% of the causes.
Where do 80% of your profits come from? What about 80% of your sales? How about 80% of the compliments your credit union receives? Or, 80% of the complaints you get?
Where is your focus? Is your credit union core system ready to maximize the 80/20 rule so you get the most bang for your buck?
Over a year ago, we rang in 2015 by reviewing some benefits that your core processor should be giving you. Let's highlight ten of these again because as another year has come and gone, we've seen many credit unions keep pace and others that are now trying to play catch up. If you're not getting the following benefits from your credit union core processing system, it may be time to perform a core system review.