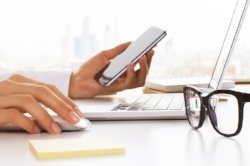 As our everyday lives become increasingly dependent on smartphones, we have to ask ourselves, "Is there any value in desktop banking being part of your strategic product development planning?" The answer isn't easy. Here we address some key issues surrounding mobile versus desktop in relation to credit union internet banking.
Mobile use demand is growing, while desktop is slowing
. In 2015, Google
announced
that "more Google searches take place on mobile devices than on computers in 10 countries including the US and Japan." There is no doubt that trend has continued. However, there is a place for both platforms. Numbers indicate that while you may be more likely to check the weather from your phone, you are also more likely to shop online using your desktop. Credit unions need to have a responsive (mobile-friendly) website for members to access on the go, especially for information like branch locations, routing number and business hours.
Mobile banking increasing in availability and popularity. There has been huge growth in mobile banking for activities like balance inquiries, transfers, mobile payments and remote check deposit. Younger credit union members will find these options a must and most likely only use a financial institution that offers them. However, for older members, mobile banking can seem unsafe, and entering information into small fields on a phone can be challenging. This underscores the need for a dual strategy as individual preference determines the use of mobile and/or desktop banking.
Security concerns with mobile banking.
Security on smartphones is facing growing security concerns as more cyber threats emerge daily. For example, just this month a
ComputerWorld article
reported "
Cybercriminals
are adding file-encrypting features to traditional mobile banking trojans, creating hybrid threats that can steal sensitive information and lock user files at the same time. One such trojan is called Faketoken and its primary functionality is to generate fake login screens for more than 2,000 financial applications in order to steal login credentials." There are cyber security concerns with desktop banking as well, but individuals are far more likely to have robust antivirus and firewalls available for protection.
Is there a clear winner? Not yet, and there may never be. Remember the term 'user experience', this is what you want to achieve. User experience ensures a consistent experience for your members between devices, whether it be mobile or desktop. Providing your members a positive, simple and functional experience via both desktop and mobile is key to retaining their trust and keeping your credit union products and services relevant.