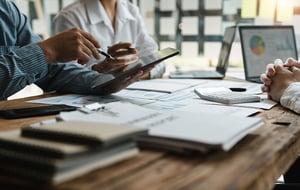 A credit union can't continue to do what it's always done. In the modern world we live in: member expectations change all the time. This, coupled with increased competition, cause fluctuations in the financial industry on a regular basis. Therefore, for credit unions to succeed within this context, they need to remain efficient enough to pivot at a moment's notice.
But understanding why efficiency is crucial for a credit union and actually taking meaningful steps to improve it are often two different things. Therefore, if improving efficiency is a top priority for your credit union, there are six specific areas that you'll want to take a closer look at moving forward.
1. Strategic Planning
By far, the number one technique that your credit union can use to increase efficiency involves careful, strategic planning moving forward.
Basically, all credit unions should identify and eliminate those services that aren't that profitable in the first place. In essence, you need to be eliminating those services that have low margins and move towards the ones that are inherently more cost-effective from the start. Find out the minimum commitment of resources needed to be competitive with a particular service and learn what it takes to differentiate yourself from your competitors. Do this with every service that you offer and reassess on a regular basis to help make sure you're headed in the right direction.
2. Channel Optimization
Another technique that you can use to improve your credit union's efficiency involves channel optimization. Every channel that someone uses to interact with your credit union should be tailored to your specific members. This may require you to reconfigure certain roles or reassess staffing within a particular branch. However, expanding your optimization goals by implementing more self-service tools allows members to transact as they need when they want. Self-service tools such as online and mobile banking, along with ITMs, remove the need for members to rely on credit union hours or staff to fulfill their banking needs. These tools also allow staff to focus on internal processes or assist those members that do come in-branch.
3. Process Costs
To tackle the issue of process costs with an eye towards efficiency gains, it can be helpful to think of your credit union less from a financial services perspective and more from a manufacturing one. Try to reduce the cost-to-value ratio for each activity or service that a member might engage in. This includes not only opening a new account, but also applying for a loan, executing specific types of transactions, and more. Everything needs to be analyzed, mapped, and benchmarked to improve back-office processes as much as possible.
4. Credit Union Productivity
Obviously, the more productive your staff members are, the more efficient your credit union will be. But to get to that point, all roles must be clearly defined and progress must be benchmarked on a regular basis. Make sure that everyone is aware of what they need to be doing, why those roles matter, and how it all fits into the bigger picture. Once people know through key performance indicators and metrics how they can improve, encourage them to do so through better training, supervision, and even through a rewards system to increase motivation.
5. Technology & Automation
Along the same lines, staff productivity (and thus credit union productivity) can be improved through the careful application of the right type of technology.
Case in point: automation. There are a lot of back-office processes in particular that, while important, also take up a lot of someone's time. Automation can be used to create more consistent results for those processes, all while freeing up their valuable time so that they can devote their attention to the tasks that generate the most value for both members and the credit union at large.
6. Third-Party Vendor Relationships
One mistake that a lot of credit union leaders make involves assuming that "reassessing third-party vendor relationships" simply means re-negotiating to get people to lower their prices. In reality, you need to make sure that you're partnering with the right vendors that align with your long-term goals. Use vendor scorecards to monitor performance factors like system availability, response times, and more. Keep an eye on your direct expenditures.
The more visibility you have into your relationship with a vendor (and what value they're bringing you), the more likely you are to end those relationships that aren't yielding the results that you need.
Creating a Culture That Values Efficiency
More than anything else, it's important to remember that the six aforementioned cost-saving strategies are a good start, but they are exactly that: the beginning of something larger.
It's equally critical to recognize that long-term efficiency cannot be achieved without a corporate culture designed to support it. This demands a tangible, visible commitment from the top down -- one that balances value and cost, does its part to reduce unnecessary expenditures and leverages metrics and accountability in a way that encourages each and every employee to improve their own efficiency and profitability across the board.
In the end, the long-term success of your organization - and the improved profitability of your credit union - will require more than just efficiency on its own. You must also be able to offer members the value and services they need. Doing so in a way that generates an acceptable return isn't necessarily difficult, but it does require you to keep all of this and more in mind.
Learn how a Buffalo, New York-based credit union used internal efficiencies to kick-start growth while expanding products and services they offer their members.
In this case study you'll learn how Buffalo Metropolitan Federal Credit Union matches technology enhancements to member demand, creates efficiency in serving members and utilizes the latest technology to compete in the marketplace.