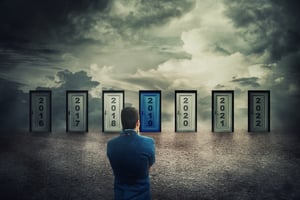 The need for financial services for businesses is constantly growing. Therefore the market potential for new business for your credit union is as well. Unfortunately, the competition for that market share is growing at an equally strong rate. Credit unions have traditionally provided their business members with a wide range of services at affordable rates and set themselves apart by giving more personalized member service. However, it's becoming increasingly difficult to compete with the larger institutions in today's digital world. Here are more ways to future-proof your credit union by focusing on new business members.
Choose the right digital strategy to meet business needs
It's important to get ahead of the curve on implementing and adopting technology in order to attract and retain the savvy business member. While it's true that credit unions typically score better on satisfaction surveys, a study by Deloitte shows that even satisfied members may change FI's if their needs become more sophisticated than their current institution can meet. Adopting a strong digital strategy now can help ensure you are able to continue to meet your business member's needs.
Creating an effective digital strategy requires staying current on emerging industry trends. One of the largest trends is how to use technology to your advantage. Artificial Intelligence can help you not only offer new services, but also become more efficient... allowing you to move faster. Technology options are everywhere and can be overwhelming. Choosing the right automation strategy and tools for your particular credit union will depend on the type of business members you are currently serving. When deciding where to start with automation, you should begin with simpler items. For example, reminders for loans with lower risk can be automated and sent out within a certain time frame. As you continue to gather more data on the performance of your portfolio over time, you'll be able to increase where and how you use automation, perhaps eventually using Artificial Intelligence to give insights into other strategies.
Develop your talent pool to handle business members
As the financial world becomes more complex, you'll need to increase your employees' knowledge and their ability to stay ahead and recognize trends. Investing in your internal resources will build a strong base for your organization and allow you to make progress faster and more effectively handle business members. There are many opportunities to provide ongoing training and education for your employees. Make it a priority to always be improving their knowledge, allowing them to serve businesses better now and in the future.
Following no longer works
In the past, it was acceptable to follow quickly behind other institutions, letting them make the mistakes first. But that doesn't work anymore... the business owners needs are already far ahead of traditional thinking. They expect their financial partner to know them, protect them and reward them. They also expect that their product and service advice will be tailored to them, providing information on relevant programs. They are focused on running their business and look to their financial partner to recommend tools and services.
The good news is that credit unions of all sizes can take the steps necessary to respond to the reality of member expectations and target growing their business members. Making the right strategic decisions now is crucial to your credit union's ability to adapt and deliver.