Employing Millennials: Courting the Purpose over Paycheck Generation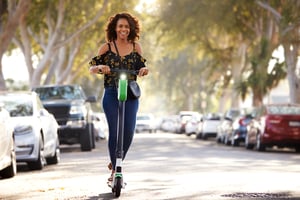 They have been called many things, from entitled to humble, hardworking to lazy, overly reliant on their parents while at the same time independent. Tom Brokaw even famously tagged them as "the greatest generation since The Greatest Generation." An enigma for retailers to attract and an adjustment for businesses to employ, Millennials (the generation loosely defined as those born between 1981 and 1996) have been simultaneously torn down and put on a pedestal by their peers and elders. But data doesn't lie. With over 56 million in the US workforce according to US Census Bureau data, Millennials make up the greatest percentage of employees today, and are proving that they are just as hardworking and perhaps even more balanced in their approach than generations before them. Hiring Millennials and keeping them happy and engaged at your credit union is heavily reliant upon the traditional motivators: money and benefits. However, what sets this generation apart when it comes to job satisfaction is the level of importance they place on purpose and technology... working for a credit union whose mission is in-line with their primary values, and one that provides them with the latest technology to get their job done efficiently are major factors in retention.
A Look at Millennials in the US Workforce
Millennials are the largest generation currently employed in the US, with Gen X next, and Baby Boomers' numbers at third and dwindling. Estimates have put the number of Millennials at well over 50 million, 40-50% by some totals of the workforce. According to Forbes, predictions place this generation at nearly 75% of workers in the US by 2025. Worldwide, their numbers are slightly lower but still dominant. Almost half of them work in business and professional services, while a third are in the financial industry, according to a 2018 Paychex survey. This bodes well for attracting employees to your credit union.
Credit unions can put aside myths of laziness, as this is a hardworking set. A study from ManPowerGroup found that this generation of highly educated and motivated employees are working harder than other generations, putting in more than 45 hours per week, with 21% taking on another job to make ends meet. 66% of people in this age group are expected to work past age 65, with 12% saying they likely would never retire.
What do Millennials Want From a Job?
Millennials overwhelmingly say purpose is a priority - working for a company whose values align with their own. For this reason, they have been referred to as the "Purpose over Paycheck Generation" - meaning over profit. A global survey of 26,000 LinkedIn members conducted by Imperative in 2017 found that 74% of Millennial candidates want a job where they feel like their work matters. This also bodes well for credit unions, where The Credit Union Difference is to serve members, not to make a profit... People Helping People. Credit unions exist to help people and serve all members well. Countless credit unions across the US proudly state boldly on their website: Every Member Counts. The same people-first philosophy leads credit union employees to get involved in community charitable activities and worthwhile causes. For this reason, the CU environment is a culture that Millennials see as being highly engaging and desirable.

While purpose is important, Millennials are human after all, and therefore desire more than just a good feeling from their work. Some other attractive aspects of a job Millennials look for include:
Flexibility: Offer flexible terms of employment when you are able to. Flexible work hours and telecommuting are not always possible in a member-facing role that credit unions require, but options still exist to offer flexibility. Casual dress styles for example, or options to work a 4/10 work schedule (4 days a week, 10 hours a shift) may be options.
Feedback: Millennials appreciate feedback - not generalized, but geared to each of them personally. They want this feedback to focus on results and to tie your credit union's goals to what's expected of them on the job.
Culture: Good company culture that shows through in the workplace and among peers is key. Socializing is important, but don't over do it. They don't need ping-pong tables and bean bag chairs to bond. The credit union should be a positive environment that creates a sense of camaraderie.
Technology: In our article, Build a Modern Banking Experience for your Members, a study was cited that found that over 20 percent of Millennials would actually quit a job if the employer did not offer fast in-office technology. This generation has had more screen time than any generation before them! Technology is such a central and crucial aspect of this generations' lives that businesses who do not adopt new technologies will not keep the hearts of younger generations for long. In your credit union, this challenge is two-fold:
Operational Technology
Make working efficiently a priority. Provide employees with modern tools and resources to do their job well. Operational efficiency not only benefits your bottom line, but it also improves employee morale and satisfaction. The Forbes article, The Millennial Expectation of Technology in the Workplace states: Technology has become completely unified into the everyday life of Millennials. They no longer ask for sufficient technology at their jobs; they expect it... organizations are looking for cutting-edge tools to meet their employees' needs. One of the most essential needs of this generation is personal and career development through learning programs... technology that contributes to their personal growth.

Communication and technology that enables immediate answers is also crucial. This generation has experienced the rapid evolution of communication through technology and the immediate response time of text messages, instant messengers and group chat applications are expected in the workplace. This not only helps them get answers immediately, it can also greatly benefit member services and satisfaction. Just as Google has been a part of their lives providing immediate answers to any pending question, having core technology that enables quick and efficient answers will benefit both the employee and the member.
Member Facing Technology
No Millennial wants to work for a company that is archaic. Being employed at an advanced credit union that offers members cool features and slick mobile banking apps is something they will not only brag about but will encourage their friends to join. They may also be a great sounding board for both your technology and marketing teams, providing insight into how their peers will perceive your offerings.

Last but not least, when courting Millennials to your credit union, it's best to avoid using the M-word. That's right - nobody hates the label "Millennial" more than Millennials! Many Millennials feel that they'll be judged unfairly based on stereotypes. Steer clear of generalizations and look at their actual work and the value they bring to your credit union. You will likely be pleasantly surprised!