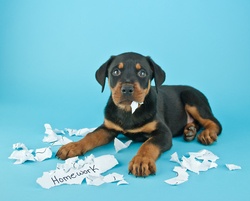 "The dog ate my homework."
"My roommate stole my report."
"The papers must have fallen out of my laptop bag."
"I lost the receipt... can I still return this?"
All of our life, we have been coming up with excuses for teachers, professors, and bosses as to why we have shown up empty-handed when an assignment was due. However, advances in modern technology have made these excuses meaningless, as more and more paperless options are present everywhere we look. Our 3rd graders are emailing teachers their homework assignments, a grad student's thesis is uploaded electronically to a university server, monthly reports are transferred within drop box folders, and a store credit card retains our shopping history. So isn't it about time your credit union loses the paper and embraces the efficiency of paperless?
Here are 5 common paperless options that credit unions are using to leverage their core technology to provide better operational efficiency:
eReciepts & eDocuments: Have you been asked if you would like your receipt printed or emailed at your favorite retailer recently? Why not offer this solution to your members? eReciepts and eDocuments give control to the member, allowing them to access these items from within Internet banking and removing the need for front line staff to spend their day printing yesterday's receipts.


Photo ID: Photo and signature verification is the perfect tool for a "high-touch" service environment. When tellers can quickly and unobtrusively scan driver licenses, employee badges, social security cards, etc. for each account owner and joint owner, they can more effectively manage member identity and account security.


Teller Capture Check-21 & RDC: Point-of-transaction Check-21 by tellers and member RDC that includes image retention and cash letter processing should be demanded from your credit union core processing provider. Take this a few steps further, and automatically total all checks scanned, read the check MICR line and compare the numeric dollar amount to the written amount, then provide immediate view from within member history and provide member access to check images through Internet banking... well you have achieved true credit union member efficiency.


Signature capture: Sounds like a basic operation within any paperless option, consider having this feature built-in to your existing system workflows, without the need for 3rd party software. Signature capture should free your credit union from retaining paper, including transaction receipts, loan documents, signature cards, etc. The member should walk out with their copy while the credit unions is stored electronically.


Document Imaging: Do you have mountains of paper stored? You shouldn't have to, document imaging provides the credit union with a cost effective way to import paper to existing member accounts for archive. An imaging solution worth its weight should allow the credit union to index scanned documents into the same database as core-generated items, this provides structural simplicty at the account level and means any document related to a member can be accessed from a single point within your core, including Internet banking.
Your members already have the technology they need to go paperless in so many other aspects of their life. Shouldn't your credit union provide this option? Honestly, with the right core system there are no more valid excuses...