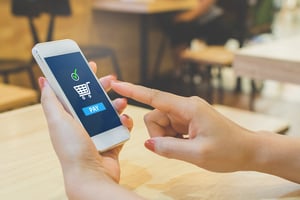 With a surge in demand and adoption of digital payments, including mobile person-to-person (P2P) payments, why are credit unions so ideally suited to benefit from this change? The keys can be found in the credit union difference.
People-Focused
Credit unions exist with the creed of "people helping people," and making payments from person to person simple and secure is a great way to execute on this. P2P mobile payments allow your members to pay others whenever and wherever they need to. From babysitters to the company lottery ticket, a few quick clicks and the money is where they want it.
In today's very unique environment, enabling contactless payments can give your members the ability to limit the physical contact in POS transactions. In addition, digital payments can be used to simplify fundraising, which allows individuals to pool their funds and make a bigger impact than just one person could. Giving your members the tools they need to accomplish their goals bolsters that people-focused mentality your CU is known for.
Community-Minded
As the next step to being focused on the people, credit unions are also deeply connected with the local community that their members are a part of. Your members are the business owners in your city and, in times like these, providing digital payment support to local businesses may allow them more flexibility in how they deliver goods and services, thus keeping their businesses viable through this crisis. Keeping the community healthy benefits everyone.
Optimized Member Experience
As smaller organizations, overseen by volunteers and funded by their memberships, credit unions put the member experience front and center. From the first few months of member onboarding, through the life of the relationship, CUs are boots-on-the-ground, really witnessing first-hand member satisfaction and what drives or hinders it, unlike the big banks whose corporate leadership is removed from the day-to-day relationships with its customers.
Strategizing ways to become a preferred choice in the digital wallet adds value to both member and credit union. For members, digital payments are an incredibly simple way to transact. For CUs, these transactions can contribute to the arsenal of data you can refer to in order to learn about what your members are doing and what products and services may be best suited to them. A robust core processor can be an invaluable tool in this endeavor and, when complimented by a P2P payment platform like Zelle, can give your CU the advantage you need to stay ahead of the banks in the customer service you are so well known for already.
Your CU is investing in a long-term relationship with its members as well as in the future of the organization. Modifying your payment strategy to deliver continuity and a frictionless transaction experience maximizes benefits to your membership and in turn will generate that loyalty your CU is dedicated to cultivating.
FLEX has partnered with Zelle® to offer person-to-person payments directly from within the FLEX mobile banking app.
This integration provides an innovative, mobile-first payment platform that will provide an enhanced member experience, offering a fast, safe and easy way to send and receive money with people and businesses they know and trust - typically within minutes!
Download the eGuide to learn more!