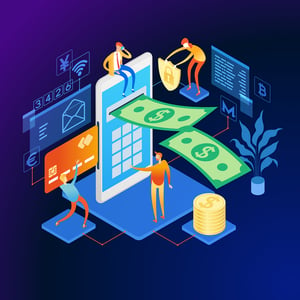 Credit unions thrive on personal interaction and service. After all, many credit unions were founded for a lack of personalization in their local banking community. However, technology has brought on an opposing, yet competing, banking solution. Digital-only banks are low-cost solutions for those who want to manage their banking needs exclusively online. Digital-only financial institutions are defined as strictly digital banking solutions. So banks and credit unions that have in-branch service and brick and mortar options that also happen to offer full digital service, cannot be considered a digital-only bank. Digital-only institutions are more commonplace overseas but they are gaining momentum here in the United States. Here is the scoop on digital-only institutions in the financial industry today.
It should not come as a shock that the key demographic for digital-only banks is younger audiences like Millennials and Generation Z. Digital banking appeals to young audiences in particular as they are just starting their careers or still in school. Either way, they are always on the go and are extremely comfortable with performing tasks through their smartphones.
Furthermore, young audiences prefer digital banking over other solutions. According to a study by eMarketer, 57.5 million US Millennials are expected to be digital banking users by the end of 2022, which accounts for more than 75% of the millennial population. However, not all Millennials are on board with digital-only banking. When asked if they would consider moving their accounts to a digital-only financial institution, fewer than half of Millennials ages 18 to 34 participating in the survey claimed they would consider such a solution.

In an attempt to keep pace with digital-only institutions, many existing credit unions are launching parallel services of their own. These solutions often serve as an extension of their in-branch services, and are deployed through key technology partners. A credit union's main point of differentiation can still be unique branding and marketing that targets digital-focused members.
Conversely, some credit unions with deep pockets might take a ground-up approach and develop their digital technology in-house. This approach will require more work upfront and is likely outside of most credit union's designated budget.
When it comes to digital-only banking, the landscape is relatively new. Credit unions have major opportunities to leverage modern solutions that will adapt and change along with the financial industry. While Millenials and Gen Z may be the main targets for digital-only banking, that's not to say they won't appeal to a wider audience. Members of all ages are looking for convenience and quality, and digital banking solutions are one way to deliver such an experience.
Financial institutions are not averse to the idea either. According to a study by Cornerstone Advisors, 37% of banking executives claimed that expanding their digital presence is a top priority, which is up 19% when compared to a study conducted the previous year. The financial industry has been focused on digital and mobile banking for many years now, but the transition to digital-only solutions is certainly something for credit unions to watch.