Cross-Selling for Credit Unions: Art or Science?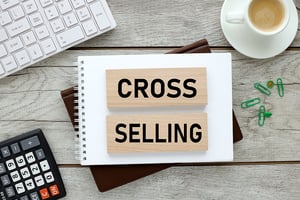 It's safe to say that the financial landscape has changed substantially over the past decade, requiring better performance for credit unions, from improving member onboarding to embracing digital transformation. Nowadays, it's imperative that CUs engage with their members on a more personal level and present themselves as a one-stop-shop for financial assistance. With this challenge comes a new emphasis on the process of cross-selling, which ultimately helps to acquire a higher level of member loyalty. Here are some valuable insights on what it takes to effectively cross-sell and foster better long-term relationships with your members.
6 Steps to Successful Cross-Selling
There is both an art and science to cross-selling, which will help you leverage the right products and services to the right people at the right time. Instead of bombarding current and prospective members with complex information at every turn, your credit union should focus on the following tips:
Begin With The Appropriate Data.

First and foremost, you need to pinpoint which members would benefit most from one of your products or services. Without gauging member interest, you run the risk of wasting resources, time, and effort. You must determine your target audience, as it's a fundamental step in every successful marketing campaign. You can have the best, most engaging message and fail miserably if you're aiming at the wrong audience. Be sure to consider and measure emotional-based data as well as transactional data, as this will provide a more comprehensive view of each member.

Use The Proper Channel.

Once you correctly identify the members that fall into your specific target audience, you should decide the best means of communicating with them. The channel you use makes a significant impact on cross-selling success. For example, personalized phone calls from a local branch may be better suited for members with increased interest, or those who have already opted into additional products or services. It's also important to formulate an effective communication strategy using social media and email, focusing on well-timed interactions over invasive ones.

Construct The Right Message.

After you've categorized your members and selected the right communication channels, you have to develop a relevant, compelling, and customized message for each member category. Remember that personalization creates a positive connection between your CU and the member. The more personalized the promotion, the more likely they are to choose your product or service. Utilize the data you've gathered to help you discover your members' specific needs and wants, and then build your message around those necessities and aspirations.

Always Offer Value.

You should always have your members' best interests in mind as you seek to assist them with their finances. You wouldn't want someone to provide you with a product or service that doesn't do you any good a month later, and your members don't want that either. Offering valuable products and services is critical to building and maintaining member loyalty, which can ultimately lead to successful cross-sales with those satisfied members later on. However, don't forget about your staff while you're focusing on your members, as they also need to gain value from their hard work. Make sure that you clearly communicate employee cross-selling expectations and celebrate or reward the high-performing ones for a job well done.

Avoid Annoying.

It's important that you know the difference between overstepping and becoming a nuisance vs. seeing an opportunity and going for it while carefully considering your member's boundaries. Just because one person doesn't have a checking account with you doesn't mean you should contact them on a daily basis about it. Tastefully time your promotions, as you want to benefit your members, not bother them. If you are constantly sending targeted messages, your efforts are actually backfiring, as members are likely getting used to saying no to you.

Be Creative In Your Communication.

Give your members a reason to engage with your content and check out your new or existing product or service. You never want to bore them (who wants that?). Freshen up your cross-selling scripts and add in some compelling questions, conversation starters, and even local information that would be useful to your members. Don't be afraid to sprinkle some light-hearted humor and even some fun incentives in your messages, if possible.
Cross-Sell With Confidence With an Advanced Core Software
Successful cross-selling is one of the keys to making a lasting impact on your members--one that not only builds trust, but also makes them want to stick around and take advantage of your other supportive services and products. As a credit union in a competitive market, you need to understand the ins and outs of cross-selling. Hopefully, now you can implement the tips mentioned above and begin to see the results you've been looking for.
In sum, a productive cross-selling strategy uses the correct data, communicates via the appropriate channels, and creates the right message. You'll also find success if you focus on providing value for both members and employees, are mindful of your messaging frequency, and concentrate on creative communication to keep your members engaged.
Marketing is at the very core of cross-selling. Are you looking for a marketing platform with cross-product integration, member data downloads, and targeted personalized mailers? At FLEX, we offer all of that and much more! Download the FLEX Member Marketing Services eBook today and start promoting your CU in the best way possible.