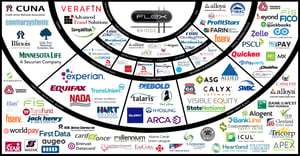 The lack of core integration tends to bring stress and anxiety upon some credit union executives and IT staff. Core integration is often viewed as a competitive advantage for credit unions who want to offer the best products and services and is an opportunity for credit unions of all sizes. Core integration opens the door to new features and services that help attract new members and keep existing members happy. Here are a few key benefits that credit unions can gain from better core integration:
All-In-One Experience for Members.
Members don't want to keep up with multiple portals just to manage their finances and card security. Now that 2019 is fast-approaching, it's time to consolidate those features if they are not already. It's unrealistic to expect members to different login credentials for their mobile app and online banking. This is not only complicated but extremely frustrating for members. Now that other financial institutions have impressive integrations through mobile and other platforms that all connect to the core, credit unions that fail to provide that same level of integration fall behind. Having seamless core integrations isn't an option anymore - members expect it, and if your credit union is using an old core system that isn't compatible, then it's time to upgrade.
Streamlined data and sources for credit union staff.
Similarly, streamlining the experience for staff is important. Having the same data and information repeated throughout multiple platforms can lead to confusion and frustration. It's also a barrier to productivity if staff members have to search through multiple portals to find what they're looking for. Leveraging the power of Application Programming Interfaces (APIs) can facilitate the duplication of data and make everything easier and more efficient for staff, and ultimately allow them to do their job more proficiently. This improved experience for credit union staff also translates into the member experience, as staff will be able to better help and serve members.
Adaptability.
A core that has room to grow is one of the most important considerations when upgrading. If the core is limited in its ability to adapt over time, then that solution may not be the one. The financial services industry and its technology solutions are constantly changing and an adaptable core will be well worth the investment when it allows for new integrations as the needs of your credit union change. A core provider who is committed to evaluating their technology as new features become available will make a great partner. Especially for credit unions who are looking to grow and scale.
Don't let the lack of core integration be the roadblock to your credit union's success. Technical barriers for core integration are diminishing as 3rd parties and core providers are working to employ helpful, cost-effective solutions for their customers. With the right partner, new core integration doesn't have to be such a headache.