Thorny Core Providers | The Story of Integration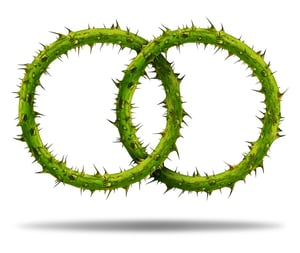 95% of all Americans own a cell phone, with 77% owning a smartphone

100% of Americans Aged 18-29 own a cellphone of some sort (94% of which are smartphones)


98% of Americans aged

30-49, and 94% of those in the 50-64 year range own a mobile phone

Even older Americans, aged 65+ have adopted the technology and cultural shift with 85% boasting ownership.


Any technology or industry tradeshow has certain booths that dazzle the crowd. Mobile banking apps are no exception and there are certainly a number of digital products that will delight not only your CU's board, but members especially. The challenge most credit unions face when deciding to embrace the mindset of the digital transformation leaders is the fact that they are burdened with a slow moving or closed core.
Don't Let Your Core Hold You Back
Many core system providers have created a complex product that works across the board for all its credit union clients. Customizations can be costly, and unless the development opportunity applies to most of its clients with a great demand, it probably won't make their development roadmap. So, if your credit union has its eye on a shiny new object that will wow your members and keep you relevant in your market, your core system may not see it the same way and can prevent you from adopting the technology due to closed architecture.