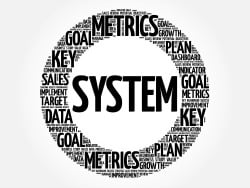 Should consultants be questioned during a core system review? As your opinions of key features silently diverge, you might hear your inner dialogue attempting self-reassurance that consultants are the experts. They are undoubtedly professionals in financial technology because it's their industry and livelihood, but what makes them authorities about your particular credit union? Do they know the inner workings of your CU and how you operate on a daily basis? After all, there is no one best core system but there is a system that is best for each credit union.
Many consulting services create a time-consuming process designed to project value, yet conclude yielding a predictable brand name in order to achieve a risk averse objective. What does this mean? It means that you shouldn't limit your field of potential vendor candidates just because they are beyond the consultant's small pool of preferred credit union core systems. Look to consultants to provide you with their valuable insight, and then trust your opinions and those of your employees who ultimately use the core processing system.
To truly reveal what you need to get out of your credit union core software, a team of internal experts that represent every business and transactional segment should be formed during the review process. Your employees will not only have a wish list of desired improvements but can also explain the roadblocks they face in their daily workflows.
The discovery process from within can ensure that you invest in a credit union system that reduces risk and offers enhanced ability to innovate. You may realize how limited your current system is and what you're truly lacking in the core. Present day credit union core systems should allow CUs to quickly respond to customer demands by having the ability to introduce new products and services.
As a core system review unfolds, it may become clear that there are many items that need addressing. Fixing all the issues initially may not be the right solution. The process should assist in evaluating and ranking all the initiatives to determine which areas to remedy with a new data processor.
If your credit union software is becoming increasingly hard to maintain and support or new products are extinct, and providing a consistent member service experience is impossible, it sounds like it may be time for core system review. As you allow your staff to be heard during the review, they will be able to offer feedback on both positive encounters and challenges they face in getting their work done. Afterall, they live in the daily trenches of member service, which can provide the keys to learning what features you should or shouldn't focus on during your review.