Changing Credit Card Offerings in the Era of Inflation: A Breakdown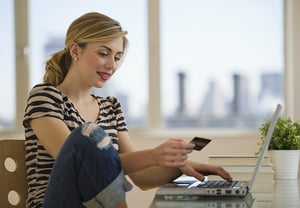 According to one recent study, the annual inflation rate in the United States grew to 9.1% by June 2022 - the highest rate since 1981. As a result, how people shop for things like credit cards is changing. This is especially true as not just inflation rises, but the prices of fuel and other essential items do as well.
However, this does not have to be a bad thing for credit unions. As the old saying reminds us, "necessity is the mother of invention." In this case, savvy credit unions are earning new members through innovative new credit card reward offers, among other techniques.
The State of the Credit Card Market
Part of the challenge for credit union members these days has to do with essentially being caught in between two major shifts in their financial lives. For starters, inflation is leading to increased prices on many important items like those mentioned above. Secondly, they're turning more and more to credit cards, as a result, to help get by. With the Federal Reserve increasing rates more frequently, this is leading to increasing costs in this area as well.
All this from an area that has been known for low rates for years, creating confusion and frustration among members and a major challenge for credit unions as they try to attract a wider audience to their products.
Differentiating Your Credit Card Offering From the Competition
One opportunity that credit unions have to innovate and overcome this challenge has to do with focusing less on the credit itself and more on the rewards they are able to offer to members. One example of this takes the form of change saving opportunities for members. Qualifying members can round up a debit or credit transaction to the nearest dollar. The difference between the price they are charged and the amount they paid for a product or service is then deposited into an associated savings account. So if they spent $9.50 on an item, it would get rounded up to $10.00 with the $0.50 difference getting deposited.
It is a perfect way to offer additional value on a card and to help members save money - often without realizing it - at the same time.
Another example has to do with allowing credit union members to build incentives that entice them towards certain services. You could determine whether a card transaction is executed using a PIN or a signature, for example. Based on this behavior, the member can then be enrolled in certain pre-defined groups that each have their own unique benefits structure based on real, verified behaviors and preferences. Credit union member accounts can get more personal - and relevant - than ever in terms of rewards.
All told, rewarding members for every dollar they spend is a perfect chance to encourage them to sign up for something like a credit card. As adoption increases, so will satisfaction - creating a mutually beneficial situation for both credit unions and their members alike.
Superior Credit Card Management Services
At FLEX, we understand that in the modern era credit union members need, expect, and deserve higher quality banking services than ever. That's why we've put together a helpful resource on how to offer the types of card services that are not just accessible but also intuitive to all members, building a significant amount of trust and confidence along the way. It will also help you discover how to provide your members with innovative credit card offerings that will best fulfill their (and your) needs. Click below to learn more!