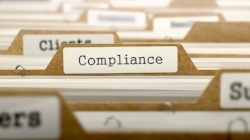 Staying ahead of the ever-changing credit union compliance rules and regulations is no simple feat. For credit unions big and small, compliance is identified as a top critical issue they face every day. When compliance mistakes are made, the credit union takes a hit financially, and this hit can be detrimental especially for smaller credit unions. In order to keep the lights on at your credit union, here are 4 compliance mistakes you should avoid making.
Ignoring FinCEN – FinCEN requires credit unions to record and report any suspicious activity that might signify money laundering or fraud, and compare member records to the US Department of Treasury FinCEN list. Every employee should be aware of FinCEN and what signs they should be looking for when working with members. If employees are ignorant of the damaging consequences of a FinCEN compliance violation to a credit union, it may not be taken seriously. Most credit union systems automatically cross-check new members and loan applicants against the US Department of Treasury file and trigger alerts if the member is on the list. Train your staff to look for these alerts and define procedures on how to handle these situations.
Failing to File Currency Transaction Reports (CTR) – Under the Bank Secrecy Act, a CTR must be filed for any transaction over $10,000. Failing to file CTR's may result in penalties that are paired with hefty fines that multiply by the day and possible criminal charges. Be sure your frontline staff knows the importance of filing the report. Credit union technology should make the report filing simple and strait-forward for your staff with automated triggers in place to prompt CTR's for transactions over the limit.
Stepping Outside the Field of Membership (FOM) - The CU field of membership is a critical piece of what differentiates CUs from banks. Because CUs are built as cooperatives, and non-profit, they receive certain exemptions from the government. These exemptions hinder on the membership being limited to certain shared traits. While these FOM requirements have certainly been reduced over time, there are still required qualifiers that govern membership approval. Going outside of these can put your charter in jeopardy.
Lack of Sufficient Risk Assessment – Examiners often find that credit unions with over $50 million in assets have inadequate controls set up to support compliance automation and protect the credit union's risk assessment, AML and BSA requirements. If your credit union has insufficient risk assessment you'll be spending extra money on inefficient solutions to make up the difference. SimpliRisk is an efficient and affordable compliance automation solution for transaction monitoring, risk rating and member due diligence to support credit union AML and BSA requirements.
Compliance within your credit union should be facilitated with technology, and choosing compliance-minded technology partners should be taken into consideration during strategic planning and credit union core conversions. Download our compliance eBook for more solutions on how to avoid compliance mistakes that can be detrimental to the survival of your CU.