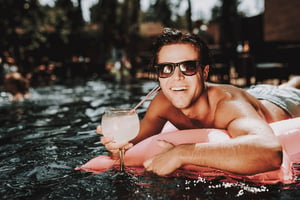 At the mid-point of 2019, Summer is here and vacations have started. If you manage to sneak away from your role as a credit union leader, perhaps sipping your lemonade poolside, you may start to reflect on where you stand with some of the goals you set in your strategic plan for 2019. How much progress have you made toward achieving those FinTech goals you set for your credit union? Are they still relevant? Do they need modifying or to be re-prioritized? Start by reviewing just what those initial goals were and your vision for your credit union for 2019. Your technology goals are unique to your particular credit union and the areas you'd like to improve upon. No matter where you are in your digital FinTech development, whether just starting to offer mobile capabilities or looking to implement the latest cutting edge technology, here are some things to consider as you work towards those goals:
Increased convenience and reduced friction in the member experience. The digital age of banking is here. Your members want modern, fast apps, and to bank with you in only a few quick screen taps. You need to offer mobile member conveniences such as remote check deposit, password resets, balance transfers, even loan applications, while sitting at the kitchen table. The easier it is for your members to use your apps, the more likely they are to use them and keep using them. Make sure your digital tech is user-friendly, It should not only appeal to your current member base, but offer popular conveniences that will attract a newer, younger batch of members. Just getting your feet wet? Consider tracking which services are the most popular, and then start by offering the best technology in those areas.


Efficiency ― reducing member interaction costs through robust digital applications. Along with creating efficiencies for your members, it is also important (if not more so) to create in-house efficiencies as well. Choose to work with a provider who can deliver robust technology and eliminate the need for 3rd party involvement. One that not only provides up-to-date and the latest in products and apps, but also provides support across processes and businesses, allowing you to expand your tech when the time is right.


Amp up digital marketing strategies and create fresh branding of "who we serve" in order to grow membership. When Millennials and other potential members are looking to establish their first financial relationship, open accounts and deposit their money, the challenge is to direct their attention to your credit union, as opposed to a competitor or alternate financial institution such as digital-only, or challenger banks. Fresh branding and pushing your digital capabilities to the forefront of your identity will help you succeed in attracting new membership by promoting your digital member services. Develop a marketing strategy that incorporates social media, email marketing, and build a dynamic website. Consider making secure instant messaging and biometric login technology part of the mix. Think outside the box with items such as on-line educational classes, such as courses geared towards first-time home buyers. This will help get potential members in the digital door.


Technical education for members and staff to handle digital technology and be able to navigate apps efficiently. As discussed, it's important your apps are user-friendly and easy to navigate, but it's also important that your staff understands the applications well. They'll need to help not only reset passwords but walk members through online enrollment and explain where to find information and answer questions. Consider having your team members attend a class on new applications when they're rolled out and offer online tutorials for your membership. After all, what good is offering digital technology if no one can use it?
Are your goals where you need them to be? Are you making good progress so far in 2019? Asking questions like these will usually tell you where you need to apply your efforts for the second half of the year. Once you've done that then go enjoy that glass of lemonade!