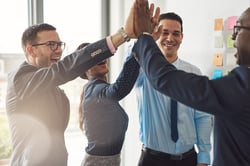 col·lab·o·ra·tion
kəˌlabəˈrāSH(ə)n/
noun: the action of working with someone to produce or create something.
It's not a word you often think of in relation to the financial sector, but you should. Credit Unions are uniquely positioned in the financial services industry in a way banks never can be. The differentiation centers around collaboration among CU's, which is both encouraged and practiced. CU's work together to provide their members with services and benefits otherwise not found in traditional banks, all while promoting the credit union industry as a whole. Banks are not the same, and here are nine examples of that:
1. The "Credit Union Difference." Through the efforts of CUNA and other organizations, the Credit Union Difference is a well-defined campaign, stressing how credit unions exist to help people, not make a profit. People are considered and referred to as members, not just customers. And every member is also an owner. It's a shared involvement that gives all parties a piece of the decision making. While banks may have shareholders that can vote on some direction, their customers don't really have a say in business decisions. Plus, profits seen in a credit union go back to benefit the members, whereas bank profits benefit the shareholders.
2. Education. Rather than attempt to make the most money out of each potential member, credit unions assist members to become better educated about financial services. Having well-educated members decreases the likelihood of costly issues like overdrafting and poor credit ratings.
3. Every member counts, equally. In a traditional banking establishment, the wealthier consumers receive preferential treatment. The goal of CU's is to serve all members well, including those of modest means.
4. Volunteer boards. Unlike the well-compensated boards of other financial institutions, credit union board members serve on a voluntary basis from within the CU membership. They are voted into their roles by their fellow members. They are tasked with upholding policies and making the best business decisions that will help the entire membership.
5. Local Leagues. As part of the collaborative spirit, there are local trade association leagues for credit unions. These groups act as a resource and advocate for all the credit unions. For example, the Ohio Credit Union League mission states: "We make the daily lives of staff and volunteers easier through political and regulatory advocacy, compliance and information services, educational and professional development opportunities, communications, media relations, outreach solutions, and more." Much like individual CU boards, these leagues are led by local CU members too. They know that the better each credit union performs, the more people will want to join, and that benefits everyone.
6. Consortiums and Cooperatives. In addition to the resources found in the local leagues, CU executives work with their local counterparts to share ideas and develop friendships. They look for ways to pool resources that might enable them to offer services or products to their members that might be otherwise unaffordable.
7. Events. To take collaboration beyond the local area, there are nationwide events hosted by organizations like CUNA and NAFCU. These conferences give CU executives the opportunity to see what practices and technologies CUs across the country are using to grow, including core technology.
8. Community Involvement. Members usually have shared interests, often based on a place of work, worship, or education... in other words, a community. They also tend to work for local groups by industry or workplace, like school districts or large companies. Therefore, it is no surprise CU's prioritize efforts to give back to the community through financial education outreach and philanthropic giving.
9. Social Media. One way credit unions work together is promoting each other on their own social media accounts. It is not uncommon to see one credit union CEO re-tweeting another's messages. You would be hard pressed to find a banking executive promoting another bank! But CU executives realize that tapping into the collaborative nature of the credit union industry will set all credit unions, including their own, up for success.
The spirit of collaboration among CUs is clear. For one to succeed, we must all succeed. That's not an attitude we see much of in today's business world. CUs promote a sense of community values throughout their business practices, and that is very appealing in a very impersonal world.