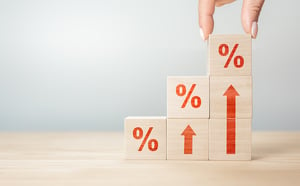 Whether your credit union member earns $30,000 a year or $300,000 a year, everyone is feeling the crunch from inflation. And this should come as no surprise, considering inflationary pressure is at a 40-year high. Even so, many financial institutions are reluctant to discuss inflation in a real way and offer tangible steps consumers can use to reduce the impact. However, your credit union could be the lighthouse that helps members weather the storm and navigate their way through the fog. Here are four key marketing messages and campaigns credit unions can use to help your members and your bottom line.
Lead with Empathy and Follow with Education
Although it's very tempting to act as if it's "business as usual", this stance could make your credit union come off as indifferent to the needs and struggles of members. Instead, you can deepen the relationship with members and your prospect footprint by leading with empathy and understanding. And right now, members need help understanding inflation. While 62% of adults report not understanding inflation, 88% are worried about it, according to a survey from Country Financial. As such, offering helpful webinars and resources to educate members on inflation can be of significant value.
Lend Underserved Members a Helping Hand
Inflationary pressures place wallets into a vice grip, pushing many members toward deeper financial insecurity. This makes them prime targets for predatory lenders. According to CU Today, one payday lender issued 44% of loans to new customers in a single quarter. With annual rates as high as 64%, payday lenders can push valued members further into financial straits. However, with a little bit of creativity, your credit union may be able to help. Consider developing microcredit products for borrowers who may not qualify for standard lending products.
Market the Power of Your Credit & Debit Card Rewards Program
Periods of inflation are an excellent time to highlight why your card offering is superior, particularly your rewards program. Highlight the fact that card rewards can be earned on everyday purchases that members will make anyway, such as gas, food, and restaurant purchases. By using your credit union's card rewards program, members can earn cash back and/or rewards points that can equate to cash. The message is to use your credit union's card for all purchases and earn cash for doing so, as long as the balance is paid in full each month.
Reinforce the Importance of Responsible Credit Card Use
As a general rule of thumb, rising inflation leads to rising interest rates. And this can make it harder for financial institutions to loan money to consumers for large purchases and personal loans. However, when your members responsibly use their credit cards, it can help bolster their credit score and push them into the next lending category. Educating your members on the value of a great credit score as another way to beat inflation can be extremely helpful, especially if they're shopping for personal loans and mortgages.
Switch from Variable to Fixed Rate Lending Products
Another solution your credit union can offer to help members with inflation is fixed-rate lending products. Encourage members to switch from high-interest-rate credit cards to potentially lower fixed-rate personal loans. This can help your members potentially lower their monthly payments, which can free up monthly cash flow.
At the same time, members with significant credit card debt may be able to qualify for a fixed home equity line of credit (HELOC). Backed by the traditional lower interest rates of mortgages, a fixed-rate HELOC can be a more efficient way of paying off higher-interest debt. Or members can use a cash-out refinance to lock in the low fixed rate and pad their savings account.
Rethinking Your Approach to Inflation to Help Members & Community Weather the Storm
Regardless of income level, your members are feeling the crunch from inflation. Fortunately, your credit union is in a unique position to support them as they navigate the economic climate. Whether it's education and resources, budgeting tools, or lending resources, your credit union is already offering the solutions to help. It's just time to rethink how you talk about it.
Learn more about how FLEX Member Marketing Services allows targeted messaging and cross-product integration designed to meet your members where they are.