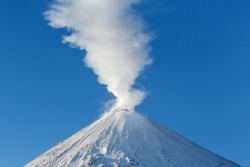 When many people hear the term dormant they think of once active, but now quiet volcanoes. For those scientists that have the difficult job of classifying a volcano as dormant versus extinct, the process can take years. Luckily for credit unions, they don't need to turn to volcanologists for assistance when analyzing inactive accounts. Finding a means to erupt inactive credit card accounts is a bit easier. Who's your cardologist? So what is the key in both scenarios - volcano classification and credit card history?
Data! Neither scientists nor credit card analysts will get very far without solid information. Credit union card teams need to analyze as much internal and external data as possible in order to properly segment dormant cardholders before executing strategies to bring them back to life.
We couldn't agree more with the following statement from CUInsight, "The key to success is identifying which of a portfolio's dormant credit card accounts offer the greatest potential for reactivation." In the article "Data-driven strategies wake sleeping credit card accounts," the analysts have found that dormant credit card account owners generally fall into one of four basic categories:
They need a different product.
They need a higher credit line.
They need a different APR.
They have multiple needs (combination of the above).
Going through the process of segmenting credit card accounts will be a valuable step along the path to determining how to awake cardholders. You are not only working with an established market, but also have an array of valuable credit union data on these accounts within your card management system. Use that information to learn how and when they have used their credit cards, as well as what other products they use from your credit union.
These four suggestions are offered as methods to jostle dormant accounts:
Implement a rewards campaign – Offering basic card account holders an opportunity to own a rewards card, for instance, can breathe new life into a portfolio (not to mention, customer relationships).

Provide credit line increases – Cardholders rarely consider asking their issuers to change what many of them perceive to be set-in-stone limits. Instead of charging up four different cards with small balances, cardholders may prefer to use a single card with a higher limit. Be that card!

Set down a pricing strategy – With the right data and a good credit union core system partner allowing card controls and knowledge of the current competitive landscape, your pricing can better align with more of your members' expectations.

Give them cash back – The primary reason credit card accounts go dormant is their owners lack truly valuable incentives to use their cards. This is especially true among high-income cardholders. Cash back rewards are one of the best ways to incentivize these cardholders.
Using data for product adoption and growth is vital. How easily does your credit union core processing system deliver the information you need to get the account data that can lead to data-driven decision making? Using a credit union technology system that helps you increase your knowledge on a daily basis will assist in personalized and relevant product offerings to members. Some of which could awake cardholders and bring the lava flow of their spending back to life.