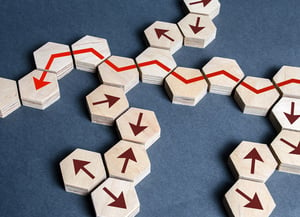 There will always be something better, newer and more exciting in the pipeline for technological enhancements in the world of finance. With so many fintech companies in the marketplace - more than 2,000 fintech firms entered the market between 2008 and 2018, according to a Deloitte study- the options can be overwhelming. There's a continual demand for new technology. This demand isn't just from millennials, but the general banking population as well, as their comfort level increases and new tech catches on. Unfortunately you may be struggling to meet these demands as an financial institution. You want your credit union to stay ahead of the competition by offering the latest and greatest in mobile and digital capabilities. But it's also equally important to keep abreast with what is on the horizon and be prepared when the time comes to implement these new services. Being up to date allows you to stay marketable and competitive by being exciting and attractive to new members.

There's much to consider and lots of research to be done before launching down the path of innovation. What are the anticipated benefits? Is it something that your members are asking for? What is the cost of development and implementation? Will it mesh and slide seamlessly into your network and be supported by your core processor (via open architecture) or will you need to invest in working with a third party? With so many things to consider, where do you begin your quest to become more cutting edge?
Here are some things to keep in mind when considering new products and services that strategy consultant Lauralee Hites discussed recently at a CUNA conference. She said successful fintech products share a few of these same traits:
Ease of use. Make sure your members can use the tech, and if there's help needed, ensure your support staff is able to find a resolution.
Less customer friction: Think of Amazon's one-click to buy button.
Visible and incremental improvements to financial health. Don't just provide the tool, go above and beyond by bettering your member's financial health by providing added value to the customer experience.
With these things in mind, begin by talking and working with your current core technology vendor. They are your best ally and resource when it comes to updating your fintech and keeping it cutting edge. With their technology already in place, implementing new technology through open architecture maybe be the most efficient and cost effective route. Talk to your members through surveys, go online and stay in touch with marketplace peers to gather information and then talk to your vendor. A full-service vendor will keep you aware of what's on the horizon and help you get a plan in place to make it a reality.