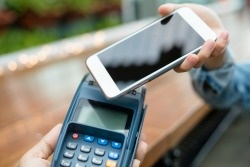 Mobile banking is so commonplace now that we don't have to talk in terms of users versus non-users. Instead, we can talk about low-intensity users versus high-intensity users. Yes, there is still a population that is not taking advantage of credit union mobile apps but for those that are active users, let's take a look at what makes up their mobile activity.

Members are choosing to use their mobile devices to accomplish banking, payments, budgeting, and shopping with greater ease. In the Federal Reserve Board's Consumers and Mobile Financial Services 2016 report, it's noted that 53% of smartphone owners with a bank account had used mobile banking in the 12 months prior to the survey. Of mobile banking users, 82% have installed their institutions' app (versus simply using their phone to access a credit union's internet banking portal).
Similar to what we've highlighted in the past about millennials and mobile banking, the Fed's survey found that mobile phone usage is higher among younger age groups:
91% for persons ages 18 to 44
90% for persons 30 to 44, and
89% for persons 44 to 59
81% for persons ages 60 and over.
The study further correlates with what we all see as reality: There is a mix of online and offline channels that complement how members interact with their financial institution. The top three mobile activities continue to be checking account balances, transferring money and receiving alerts for credit unions: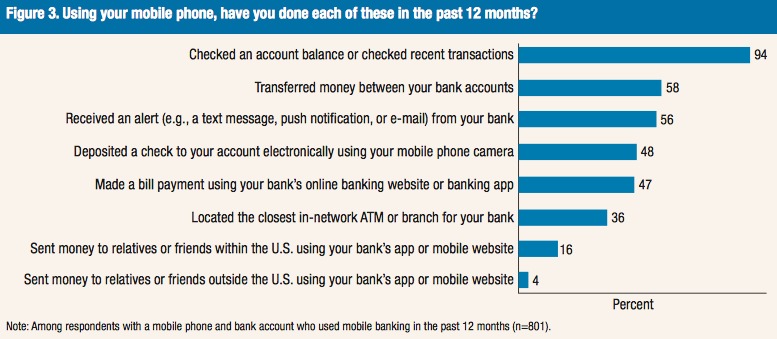 It is important to know how members are using your mobile app. Make sure that your mobile banking provider has reporting and analytics tools built into your mobile platform. This will allow for data analysis and the targeting of behavioral trends with your membership.
As your credit union develops its mobile banking strategy, analyze the user behavior and what services they are using on your mobile app. The low-intensity users are likely to take advantage of basic mobile features such as the top three identified in the chart above. The high-intensity users conduct mobile banking tasks more than 10 times a month and use a range of features from check deposits, money transfers, bill payments, locating ATM's, etc. at much higher rates than other mobile banking users. Knowing how your members use your credit union mobile app will help you add technologies that matter and introduce new avenues for member service and targeted product creation.

Your search for ways to improve your credit union mobile apps may bring you to a review of core system integration with mobile banking technology. It is not necesarry to leave your core processor to upgrade your mobile banking. Some instutiotions specialize in mobile banking and can integrate with any core software provider. Whether or not you need to fine tune your mobile banking technology to be able to compete with other financial institutions that offer convenient mobile apps, there are ways to proceed to get your credit union literally in the hands of members.
Download the mobi¢int eGuide to learn more about core independent desktop and mobile banking services.