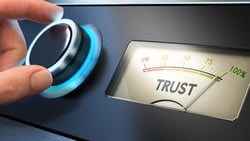 We talk a good deal about trust when it comes to credit unions. For example, in the article
Credit Union's Emphasis on Trust Holds True
, we identified that trust in credit unions among their members is 60%, compared to 30% customers' trust in big banks. Likewise, credit union executives consistently rank trust as the top priority in vendor relations. While a silver-tongued sales person can paint the Sistine chapel in your mind, it doesn't make it a reality. Partnering with a credit union core system vendor you can trust is paramount to flashy sales tactics. Here are some questions to ask when undergoing a core system review to determine if you can trust your candidates:
How many 3rd parties, beyond the core platform, are required to operate efficiently? If your core relies on a complex web of additional vendors to supply the necessary functionality your CU requires, the trust factor gets murky, as often times you are not even aware of which 3rd parties are being put to use or will be required.


Are contract terms clear? Layered or staggered contracts will lock credit unions into longer terms than expected. Many credit union core processors not only employ but embrace a staggered contract strategy in a deliberate effort to entrap clients.


Is your vendor straight forward with their financials? Unhealthy financials project a gloomy future for the core processor. You need a clear picture of how they are performing to know that they can help you reach your own performance goals.


What is the response when something goes wrong? This one only applies to your existing vendor, but can significantly impact the level of trust you have in them. If there is a technical malfunction or service issue that arises, the response by your vendor should feel open and straightforward. People and businesses make mistakes. Everyone should recognize that. Owning up to those mistakes and escalating in a timely and appropriate manner indicates trustworthiness versus vendors who attempt to cover their tracks, place blame on others, or simply avoid the issue.


Have they provided a robust list of referrals? Credit unions thrive when they collaborate openly. It is in their best interests to share their experiences with vendors with other CUs. Your vendor should understand that and openly share a list of satisfied customers willing to discuss the provider. If a list isn't provided, or it's hard to get, that should be a sign that maybe they don't have happy customers.


Do they put a strong emphasis on compliance issues? Compliance should be a priority to your core provider and can indicate a level of honesty and integrity. Verify that your provider is abiding by regulations and laws that apply to them and that might affect you. A compliance-minded core provider will also ensure you have the tools to stay compliant, mitigate risk and prevent fraud to ensure the continued success of your CU.
There are many factors to consider when evaluating potential credit union core systems, and these questions will help you assess one of those factors, their trustworthiness. If you are concerned you can't trust a vendor, then you probably shouldn't. Partner with a core provider you can trust.