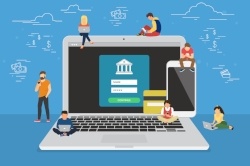 Once you have made the decision to undergo a credit union core conversion, there is no doubt there will be a number of concerns that keep you up at night. After all, there are many things that can go wrong, but typically, and thankfully, the majority of these problems go unnoticed by members. CU personnel and core partners can correct most issues before the members are affected. However, there is one thing that you can't flub when performing a core conversion... member facing applications, namely, credit union mobile banking.

Your mobile banking app is increasingly the primary avenue that members interact with your CU. In 2016, according to creditunions.com, 48.4% of the 108 million credit union members used their provider's mobile banking app or transactional website. What about that coveted millennial market? According to recent studies, Nearly 70% use mobile banking, and 31% use it as their primary interface, nearly double any other channel of banking access. While crossing the T's and dotting the I's on the back end of your core conversion, it's imperative to keep member experience first, and to ensure this interface continues to operate seamlessly. What may seem like minor annoyances can turn into major headaches for members:

Login - Mobile banking for most members has become a seamless process. If your credit union is doing it correctly, members can easily login and access their financial information instantly. If a problem occurs on the mobile banking end of a core conversion, members may be restricted to login to their mobile app, which is anything but seamless. Members expect painless banking and if they're met with an error page when trying to login they're sure to worry about the assets they've left under your credit union's care.
Password Reset - Even though we've been encouraged not to, most people will save their password so that login is fast and simple. Even if they don't check the 'remember me box', most members are using a password they have specifically set up for their banking. If members are prompted to reset their password during a core conversion it won't be an end of the world situation, but definitely an annoyance they'll take note of.

Lost Bill Pay Information - Members love the ability to pay bills right from their smartphones, but the initial set up is a process that can be a bit time-consuming. If bill payee information is lost during a credit union core conversion, members will have to track down the details again and spend time re-entering the information. Members don't want to be told that their time and resources will be impacted while their credit union is updating their core system.

Joint Accounts Not Showing - No member wants to login to their mobile banking and see that information is missing... it induces unnecessary panic and could cause a flood of customer support calls, which can lead to a host of other issues.
These possibilities aren't intended to scare you away from what, in the end, could be an extremely beneficial move for both your CU and its members, but simply as a reminder to always think about your members during this process. It becomes that much more important to work with a partner that you can trust to walk not only employees through the process but ensure third party apps are integrated correctly to provide a fluid experience for your members.