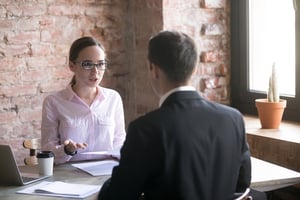 Member onboarding is the process of teaching new members what tools and services are available to them now that they are part of the credit union. Could that be executed in a one-and-done printed booklet you could just hand them? Probably. But, an effective onboarding program does a lot more than just share some information. It allows the credit union and the member to develop channels of communication and a relationship that is more than just business to customer. Here we discuss four best practices that can help do just that.

Get to Know the Details
The more you know about a member, their current situation, their challenges and their goals, the better you can serve them with products and services that they might be interested in. In the early days of the membership, utilize the core processor tools you have to guide your MSRs to ask questions and flesh out their records. Taking some extra time in the beginning to gather information allows you to tailor your messaging and make it a very personal experience. But be sure to regularly check back with your member using survey tools or questionnaires to keep your records up to date.
Coordinate with the Branch Team Members
We recommend that one person be assigned the role of managing the entire onboarding process. This ensures consistency across members, which is important. It also gives the managing member the ability to assess performance, test changes, and evolve the process in response. However, that's not to say the rest of the staff shouldn't have a role in the onboarding process. The lead should coordinate with each department to ensure that each gets to share information on their services to new members.
Give a Quick Win
People love to feel rewarded. In the early days of the relationship, giving members a quick win can be a great tactic to make them feel they've chosen the right financial institution. This reward can take the form of promotional swag, a gift card to a local business, or even rewards points if you have a program through your checking or credit card offerings. Building those positive moments early helps members form a positive perception of the CU.
Reach Out Early & Often
Get started on the right foot by establishing a cadence of communication within the first few days after a new member signs up. This can be through a welcome text or email, maybe even a call from a Member Services Representative to say hello and thanks for putting trust in your organization. Digital onboarding tools can add tremendous value by automating many of these early communications, saving your CU time and money, while giving the new member the feeling of being valued.
FLEX & Digital Onboarding Webinar
FLEX has partnered with Digital Onboarding, a digital engagement platform that makes it easy for credit union members to adopt additional products and account-related services. By leveraging Digital Onboarding within FLEX, credit unions can provide members with personalized emails, SMS messages, and step-by-step digital guides to simplify the adoption of services like online and mobile banking, direct deposit, eStatements, and much more.

Join FLEX and Digital Onboarding on Thursday, June 11th, at 1:00 p.m. Eastern Time, for a free, live webinar demonstration and learn: