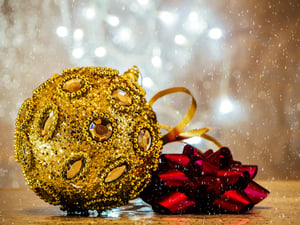 Holiday shopping is almost upon us! Black Friday is Nov 29th and many of your members will likely plan for this infamous holiday event by combing through online ads, emails and in some cases, old-fashioned newspapers. All that research and strategy can pay off if they happen to score a crazy price on electronics! While there's no doubt some planning took place beforehand, very few people would think of the technology they will use to make these purchases. Their mobile wallet? A wearable-based payment system? Is using a physical credit card going to become a thing of the past?
The need for convenience from consumers, on top of so many new fintech developments, has changed the shopping landscape. Shoppers can now make purchases outside of traditional store hours, or scan their wearable tech at the point of sale which speeds them through checkout. With that in mind, here's a quick peek at some of the newer payment options your members might encounter during this year's shopping frenzy.
mPOS – Mobile Point of Sale – By now you've probably encountered this super handy way of paying for purchases- while being nowhere near an actual cash register. The sales associate walking the floor in an Apple store was probably the first place you might've seen it, though now it's common to see this technology used anywhere there are long lines – fast food drive-thrus, concert lines and of course, department stores at holiday time. Using a smartphone or tablet, a business can download an app, and plug in a card reader to their device's jack to gather payment info. Other companies provide the tablet itself, called a 'sled', equipped with a scanner for barcodes and can even print receipts.
Mobile Wallet – Using smartphone technology and apps, payment information is stored conveniently within an app on the mobile device. As mobile devices become more the norm - every 6 in 10 consumers have used mobile for online shopping- this technology can offer a simplified way to make a purchase using stored credit card and shipping info. With touch screen or near field technology, point of sale purchases can be made without having to dig out a credit card or I.D. Accessible using a PIN, 2 factor authentication or in some cases biometrics (fingerprints and facial recognition) purchases can be made on the go, which is very important when there's more holiday shopping to be done!

Wearable Payments – Smartwatch ownership is on the rise, roughly 12 percent of adults use a smartwatch globally as per official research. Using a smartwatch, such as an Apple Watch, purchases can be made using near-field technology, barcode scanners, QR codes and touch-screen capabilities at the POS. While this technology is promising, its overall usage is finding its footing and has room to grow, as smartwatch and other wearable tech is still catching on.
This holiday season, as your members head out into the competitive shopping world, make sure they are adequately equipped with information they need to know about mobile payment options for all their shopping needs.