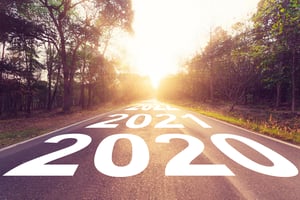 What's on the horizon in mobile trends for 2020 and beyond? Mobile banking is exploding with new ideas from voice-first capabilities, putting humans back into the digital experience through advanced biometrics, and near-field technology. It is projected that 21M to 23.5M households will be utilizing their primary bank or credit union's mobile banking apps by the end of 2020. It's further estimated there will be around 2 billion individual people utilizing mobile banking in some capacity, which helps to explain why it's such a technology hot spot. It is clear mobile banking and digitalization has changed the face of modern banking and added a whole new dimension to the industry. Here's a look at some of the leading mobile banking technology trends that your credit union needs to implement in order to stay relevant in 2020 and beyond:
Mobile App ATM Withdrawals using Near-Field Technology
This is one of the crucial and exciting new trends in banking. In the next couple of years, many banks will be introducing near-field communications technologies, which in essence will eliminate the need for members to keep their debit on-hand for ready cash. If a member leaves their wallet at home accidentally, using a near-field app they can access their account through an ATM equipped to "read" account information from the app on their phone. In addition to ATM's, some financial institutions are also looking to integrate this near-field technology for other apps like Apple Pay, Google Pay, and others. Also being explored is the concept of using QR codes, which once scanned, can log your members into their account instantly. These technologies will take the hassle out of using ATMs and add to a more convenient member experience.
More Biometric Authentication
With so much financial information housed and accessible on mobile phones, they have become a wealth of vital, private data. If lost or stolen, it could spell disaster financially for your members. With that in mind, especially as new capabilities are introduced, one of the main challenges in mobile banking is to provide adequate security. Passwords and two-factor authentication can only go so far. One of the solutions to providing more robust security is integrating biometric technology into mobile devices. The addition of fingerprint scanners and facial recognition software creates an extra layer of security and reduces the incidences of fraud, theft and security breaches if devices are compromised.
These biometric identity checks could potentially replace passwords completely, creating a more secure and convenient login process for your members.
Voice Banking
Most of us are now familiar with performing voice searches or activity requests via Alexa or some other voice activated device at home or on a mobile device. It's a convenient way to search the internet while on the move, turn on the lights, or place an online order. In fact, it is estimated that by 2020, 50 percent of all web searches will be voice generated. Over the next few years, voice commands are expected to expand to the banking industry as well, adding to the convenience of online banking and making it more secure and serviceable for consumers. Currently, some institutions are already using voice recognition as an additional layer of biometric security as one of the methods for two-way authentication. As this technology further develops, the ability to make inquiries about transactions, transfer money, and report stolen cards will become more widely available, eventually expanding to incorporate more commands and requests, and becoming mainstream in everyday banking.


Improved Member Service through machine learning, smart bots, and big data
Another trend is the rise of personalized real-time member service. Though so many transactions have become digitized, as credit unions know, the relationship with your member and their member experience is important. Through the use of machine learning and predictive analytics, these 'smart bots' can provide real-time online member assistance via their device. FIs are also using technology to identify and analyze market trends, as well as consumer spending patterns and relationships. Using this gathered data and market trends as a guide, smart bots will potentially be able to offer far better support than a real human being and provide a complete member experience. This gathered information also adds another level of security and fraud protection, alerting members and the credit union to anomalies that could lead to security and data breaches.
Balancing new technology while continuing to provide excellent member service is a winning strategy for member satisfaction. Plan ahead now to your increase your credit union's ability to adapt and deliver.