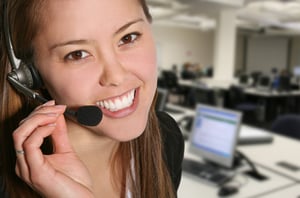 Mobile banking has revolutionized the traditional banking scene as we once knew it. Having access to your money and account information as fast as you can think of it has become normal. Did my check clear? What's my account balance? Let me check! But what about that home-town comfortable feel you used to get from visiting your favorite member service representative at your branch? The one who handed your kid a lollipop and asked how your mom was? Are those days gone?
Is there still a place for excellent member services?
With so much emphasis on the latest and greatest digital offerings, it's easy to let member services slip to the back burner, assuming its relevancy is fading. But is it? You may think that if your digital banking experience was top-notch then there'd be no need to ever visit a branch or call. However, a recent study by Celent surprisingly illustrated otherwise, proving that some members still find that personal human touch of in-branch banking preferable, and that quality human member service is still very important. In fact, those using digital banking options ONLY were shown to be the least satisfied group of banking consumers, according to a J.D. Power study. Those who did their banking with blended interactions, digitally and also occasionally visiting the branch, were the most satisfied.
Branch visits still preferred for some services
In the Celent study, which broke out members by age and type of transaction or activity, more than three quarters of respondents said they had visited a branch to conduct a transaction in the past two years. Half of all consumers also visited a branch for information, to get a particular question answered, to open a new account, or get a loan. It seems 77% of respondents still prefer branch visits for more substantive conversations, to resolve issues and have that face-to-face interaction. Digital solutions were found to be used for quick information and basic transactions. If too much work or searching was involved in order to find an answer online, 53% found it easier to just pick up the phone.
What does today's member really want?
With members still finding the need for quality member services, what is the cause of poor member satisfaction? It seems the leading cause for attrition is still (not surprisingly) a high fee structure – 75% cited this as their main reason for switching institutions. The second reason? 47% said a poor branch or member services experience. Long wait times, ill-prepared or uninformed MSR's would keep them from visiting a branch and to even seek out another institution. Interestingly, the study also found that a member's digital experience was still important, with a little over a third – 36% - saying poorly designed technology or app would impact their decision to leave. Providing a modern, user-friendly digital experience is still an important part of a consumer's banking choice.
Member service impacts marketing as well
There are also other reasons that member service is critical- they involve the fact that the MSR is the face of your credit union to the member. So much money is spent on marketing to acquire the customer- to tell them about why they should work with you. You need to make sure you are delivering the quality service that's being marketed.
Of course, once you've acquired a member, you want to keep them. According to a study by econsultancy.com, it costs five times as much to attract a new member than to keep an existing one. Which means investing in member service can decrease your churn rate and decrease the amount needed to spend on replacing them with new ones.
These happy members will also help by telling others. Word of mouth is still a large factor in why people choose to work with one company (or credit union) over another. Your MSR has the biggest impact on the member experience, and it can really pay off in the long-term.
Member service is still important
So to answer the question: How important is providing quality member service in the world of digital banking? Important. Whether by phone, in person, via email, or via online chatbot, providing that well-rounded, balanced interaction is important for a successful member experience.
A member service representative's job has evolved and grown more challenging as the required knowledge base has expanded to not just include your credit union's products but digital know-how as well. While the credit union industry is trending towards investment in the latest digital fintech, it would seem credit unions are already one step ahead of the competition by recognizing what their success is built upon, quality member service.