Fake News! Eight Ways the Public is Wrong About Credit Unions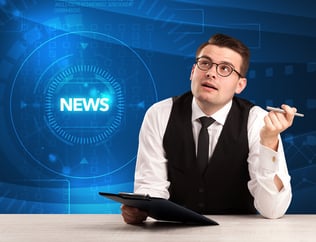 While a lot of people have heard of credit unions, the advantages in membership remain mostly unknown unless you happen to be a member or know someone who is. Most people tend to think they cannot belong to one because they aren't lucky enough to meet the criteria that will grant them that elusive 'members only' status. They might also be a bit confused about the cooperative nature of these institutions and what it means to be a member. However, credit unions have been a part of our financial system for over a century, and contrary to popular belief, there probably is one, or several, that you do qualify for.
Here is the FAKE NEWS surrounding credit unions and why joining a credit union might actually be the perfect option.
1. Credit unions strictly limit eligibility.
While credit unions do require that members meet certain criteria or have an affiliation in order to become a member, it might be as simple as location or the city you live in. Sometimes the criteria might be more specific, such as credit unions related to an occupation, a religion or even being a school's alumni association, but there are usually one or more in your area that you would be eligible for. Keep in mind, membership is also extended to family members, so you may find you qualify based on a parent or spouses affiliation. To learn more, visit
CULookup.com
to see the credit unions in your area that you might be eligible for.
2. Switching to a credit union will be difficult (and not worth it). Credit unions are readily equipped to help you transition your financial business over from any other banking institution. They are just as interested in serving your financial needs and are, in fact, known for their member services. Many offer a kit or checklist to help you when making the change and assistance with new account set-up. Once you have decided on your credit union, a simple phone call, stop-in or even online registration get you started. Many times they offer incentives or lower rates for newly transitioned accounts and deposits. Be sure to compare all the options and offers between the credit unions you are considering before deciding which one is best for you.
3. Credit unions are really just for savings accounts. Credit unions have come a long way in order to stay competitive in the financial arena, and don't limit their services to just offering various savings vehicles. They offer a full range of financial products including checking accounts, debit and credit cards, consumer loans, mortgage and car loans, retirement planning, remote check deposit, bill pay and more. These services are available in person, online and on mobile devices. Be sure to ask about your credit union's full range of products and services when becoming a member.
4. Credit unions are antiquated and don't bother to offer modern technologies.
In actuality, many credit unions have adopted the latest and greatest
fintech
with the goal to appeal to as many potential members as possible. Many credit unions don't spend a fortune on marketing commercials, so what they offer may not be obvious as some of the big banks, but modern technology is there. In fact, when polled, credit union members were often more satisfied with their mobile apps and the conveniences they provided than those customers of other financial institutions. Credit unions have invested in modern technology in order to provide the most cutting-edge services to their members, such as remote deposit capture, credit card controls and 24-hour account access. This investment in technology not only helps to attract new members but helps keep the existing members happy.
5. They don't do marketing. While its true that the typical credit union marketing budget is much smaller than that of a large bank, it doesn't mean that they are at a disadvantage in gaining membership. Instead of using marketing money to solicit and attract customers through slick marketing campaigns, credit unions rely on their community and member affiliations and established relationships to gain membership. In exchange, they can reinvest that money in the credit union itself, offering reduced rates, limiting fees, and providing outstanding member services. It might also be spent on infrastructure, the latest credit union software or distributed back to members as dividends.

6. Credit unions have fewer locations. It's often perceived that if you choose to join a credit union, you will have to deal with limited accessibility due to fewer branches and a small number of ATM locations. That may have been the case at one time but now in order to stay competitive and offer true accessibility to their members, credit unions have partnered up with each other to provide a network of shared branching, including over 65,000 ATM locations. These shared branches also can perform additional financial services such as deposits, withdrawals and transfers, all without incurring additional fees.
7. They don't offer rewards programs. Many credit unions actually do offer reward and/or loyalty programs on both their debit and credit cards. If they do not, consider the potential trade-off and the alternative benefits. In traditional rewards programs, you often have to accumulate large amounts of purchases or transactions in order to qualify for a reward, only to then see the value of that benefit canceled out because of high fees or interest. Credit unions often have little or no fees and excellent interest rates. Be sure to do the math and see which benefits will make the most sense for you.
8. Credit unions are not regulated as much as a traditional bank.
While credit unions are a not-for-profit member-owned financial cooperative, they are still held to many of the same laws and regulations as banks are and must pay certain taxes. Federally chartered credit unions are regulated by the National Credit Union Administration (
NCUA
), insured by the National Credit Union Share Insurance Fund and backed by the U.S. government. Credit Unions actually have more restrictions on the investments and types of loans they can make and have to answer to the members who own a piece of the organization and have a vote in determining how the credit union is managed.
Credit unions are known for their exceptional member services and pride themselves on the credit union difference. They often have lower, if any, fees than traditional banks and have better rates on loans and credit cards. See past the fake news and get the facts.