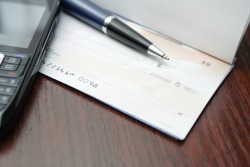 We have all been told that mobile banking will drive the adoption of credit union products and services into the hands of younger members. The data appears to back these claims. What about checking accounts? Can mobile banking help drive checking account adoption? A 2014 AOL study found that the market for new checking households is saturated, with only 9 percent of households switching checking account institutions annually. Another 7.5 percent of consumers open their first checking account in any 12 month period.
AOL's analysis found that marketing, negative experiences and life events drive those who switch into the marketplace, but that traditional methods of reaching out to checking account shoppers no longer works. In addition, the study found that the process of switching checking account institutions is short (2 1/2 month average), those who changed were most heavily influenced by personal recommendations of friends and family (44 percent) and evaluating checking options is a multi-channel experience (32 percent influenced by direct mail and 31 percent influenced by all digital channels).
While CUNA's GAC is on the minds of many CU professionals this week, two credit unions have suggested that mobile apps have played a significant role in the growth of their checking account products. At a small roundtable in Washington DC, Teri Robinson, CEO of the Pacific Northwest Ironworkers FCU located in Portland, OR met with NCUA Chairman Debbie Matz to discuss her CU's success of thriving in today's competitive financial institution landscape. "Two years ago we chose to implement mobile banking apps. At that time we had just over 600 checking accounts." Robinson explained. "Today, we have more than 1,100 checking accounts and I know this growth is a direct result of our decision to implement mobile banking offered through our credit union core processor." Matz was impressed.
Similarly, Robin Romano, CEO of MariSol FCU of Phoenix, AZ reiterated Robinson's claim. "Our checking account product has grown from around 1,000 accounts to more than 2,000 since we implemented mobile banking apps."
The AOL study offered insightful information into an oft cited topic: Checking accounts generally suggest a consumer's preferred financial institution of choice. One of the biggest secrets this report held might be obvious, while acquiring new checking households is an ongoing process and remains surprisingly steady, CONVENIENCE is a major factor.
Mobile continues to play a significant role in membership and product growth. Through this technology credit unions can increase convenience and visibility of their products to members and potential members alike. Reports from institutions such as Pacific Northwest Ironworkers FCU and MariSol FCU might help explain why more than half a dozen mobile app vendors line CUNA's GAC exhibit hall. Just remember the best mobile app option is the one that can be seamlessly delivered through your credit union core processing system and supports "single app" technology by integrating outside vendors such as bill-pay and cards.
Learn more about integrated mobile apps in our new mobile ebook.