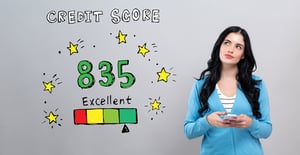 It's assumed that most members know why their credit score is important: It gets them access to loans, better rates on loans, credit cards, cell phone plans, even apartment rentals. But you know what they say happens when you assume! In November of 2019, a survey indicated that nearly 40% of Americans don't know their credit score. The number of younger respondents (ages 18-24) who didn't know their score jumped to 60%. Without knowing their credit score, or at least generally where they fall in the point total, they probably don't fully grasp the significance of the number... and your credit union has learned another tough lesson about making assumptions.
Credit scores play such an integral part of our financial well being - the lifetime cost of higher interest rates from bad or mediocre scores can exceed six figures! For example, according to interest rates gathered by Informa Research Services:
Someone with a cred score in the 620 range would pay $65,000 more on a $200,000 mortgage than someone with a score over 760. (Scores are based on a 300-to-850 scale)
On a five-year, $30,000 auto loan, the borrower with lower scores would pay $5,100 more.
A 15-year home equity loan of $50,000 would cost a low scorer $22,500 more than someone with high scores.
Improving Your Credit Score is Possible, No Matter How Bad It Is
The first step in improving a credit score is to know what your credit score is. Only then can you see what actions you have taken (or more than likely, haven't taken) that impact that score. A single skipped payment can knock more than 100 points off your number. It's not all bad news...There is no score "too bad" to improve. Even bankruptcy-related accounts aren't forever, remaining on your credit report and affecting your credit score for seven to 10 years, with their impact lessening over time.
Knowing Your Score Isn't Just About Improving Your Score
For the member on top of their credit score, the reason for knowing and monitoring their score isn't just about improvement. It's about security. A sudden change in credit score that is unexpected will force the member to investigate, and they may find an unknown, and unwanted, account has been opened. Credit scores are often the first signal that identity theft has occurred.
There are many tools and apps for members to use to track their credit score. Historically, these were paid-for services and knowing your credit card score required a subscription or money upfront. In recent years, credit reporting companies have allowed lenders to make the previously difficult-to-obtain scores available to consumers for free. If your credit union strives to be your member's primary source for financial needs, it only makes sense that the information surrounding their credit can easily be found in your CU's digital banking avenues. This not only further builds trust between your CU and your member base, but it gives your members more reasons to log in to their accounts and your mobile app. As a result, member experience is improved, and driving integration within the credit union product set will prevent competitors from taking control of member relationships.
Just as you shouldn't assume that members know what their score is, it would be a mistake to assume they know ways to improve their score.
Tri-Town Teachers Federal Credit Union is already providing their members with free access to their credit scores through their secure digital banking services. Download the case study to learn more.