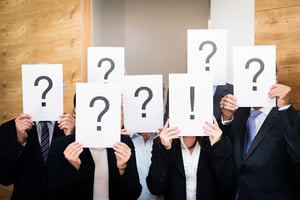 There's a lot that goes into CECL compliance (read CECL Part 1: Four Steps to Becoming Compliant), which means that formulating an effective compliance strategy will take more require more than just a couple hours of your time. To get on board with CECL compliance, everyone must be aware of changes that need to be made, and how they might affect their work. This will begin by creating a CECL compliance team with members from different functional areas in your credit union.
Who should be on the CECL compliance team? At a minimum, you'll need representation from accounting, finance, IT, credit and risk departments. It may also be beneficial to include those from treasury and asset/liability teams as well. Your CECL compliance team will be most effective if all members are able to provide deep expertise in their respective roles but also have the time to devote to research and implementation of CECL policies.
Holding CECL compliance team members accountable. Half of the battle in creating an auxiliary team like this is ensuring that people are not falling behind in their day-to-day work, nor their new responsibilities. As CECL compliance is mandated by law, the worst outcome would be to reach the deadline in 2021 with no solution or plan in place. In order to keep all team members organized, ask them to start by writing a description of their skill set, role, and how their department would be affected by new CECL guidelines. This way the team can decipher where weaknesses lie, and create a holistic plan that will provide a CECL solution for the entire credit union.
Educate your Staff. The hard work of your CECL compliance team is of no use if people are not aware of the plan. Throughout the process of creating a compliance solution, the CECL team should periodically update the rest of your employees. People will then be able to provide input if they think certain areas are lacking, or at the very least, they'll have an idea of how the plan will impact their work. Finally, when the CECL team has finished their plan, every CU employee will need to review it and understand what's required of them in order to follow through with implementation.
The biggest obstacle for credit unions in complying with CECL guidelines is procrastination. Waiting until 2021 to figure out a solution will cause undue panic, and likely, an ineffective compliance plan. Creating a responsible CECL compliance team that involves key functional areas will prove to be a relatively painless process for your credit union and put you on the road to compliance success.