8 Undeniable Reasons Members Love Shared Branching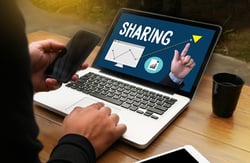 Credit unions participating in the fast-growing national (and even international) network of shared branching are ready to provide members with the service they are accustomed to, with the convenience they desire, as if they were at their own credit union. Don't let distance be a deterrent for members to have easy access to their financials.
Shared branching has a host of benefits for your members, as well for the credit union itself. According to the 2017 Retail Banking Trends and Predictions report, 50% of respondents plan to enhance data analytics capabilities to identify member needs in 2018, and 41% plan to investigate ways to reduce operating costs while not impacting member services. Relying on shared branching to reduce operating costs while still providing members with locations and services to match their needs is a critical way that CU's are responding. Here are 10 ways to demonstrate the value of utilizing shared branching to your members:
Moving?
Members may have a new address but now there is no need to close out and open a new account elsewhere. Changing financial institutions can be a big hassle and shouldn't be a mover's first option when shared branching is offered.


Accessibility!
There are thousands of credit union shared branching locations nationwide so chances are members aren't far from accessing their money.


Travel with Ease.
Whether for work or pleasure, members can access their money and still conduct business or keep the fun going while away from home.


Convenience.
Cash checks, make deposits, transfer funds here or there or anywhere in between the member's credit union and other shared branches in-network.


Don't Miss a Payment.
Loan payments can be made at shared branches so members won't miss a due date.
New Job or Retiring?
Members can maintain their relationship with their home branch and not have to move money to a new account.


Not Just the Basics.
Members can do a whole lot more than basic financial transactions. The ability to move IRA CD money quickly, as well as purchase money orders and traveler's checks, makes shared branching all the more appealing.


Supports the Mission.
Utilizing shared branching promotes the people-first philosophy among credit unions where "people helping people" comes to life when members are welcomed at participating CUs.
Credit union shared branching increases visibility and reputation of credit unions. It's also a great way to drive additional traffic and income and provide better member services. If you have technology concerns that may be an obstacle in joining shared branching, there are options to get your system functioning at its best. Updating legacy technology that integrates with other new systems and fintech can aid in expanding member offerings beyond services like mobile banking and attract new partner members using the services of shared branching.