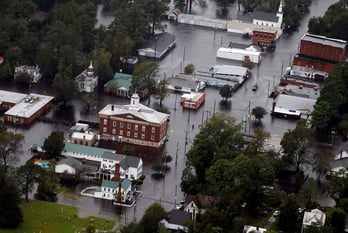 Now that the flood waters have receded, many North and South Carolina credit unions are reviewing the effectiveness of their disaster recovery plans and analyzing necessary adjustments for future preparedness. When disasters such as Hurricane Florence strike, if you were impacted or not, it serves as a nudge (gentle or not, depending on your location in relation to the disaster) to re-examine your own business continuity plans. Disasters come in many forms: some as catastrophic as a hurricane or earthquake, others as simple as a power outage that, if not prepared to react, can bring operations to a halt. Having an updated disaster recovery plan at your credit union that is tested and evaluated a few times a year is key.
InvenioIT.com conducted a DR survey, finding that 1 in 3 businesses who experienced a disaster in 2017 were unprepared, despite having a Disaster Recovery Plan (DRP) in place. When a DRP fails, the likely reasons lie within employees unfamiliarity with the plan or it simply being outdated. Many times, even if employees are aware of the steps they need to take, it is key vendors that your credit union relies on that are the weak link in the process.
Issues beyond your control with vendors can be problematic, as some are completely out of your control. In the InvenioIT.com findings, 35% of downtime is caused by power outages, which more than likely is a larger scale event that impacts entire communities. As a result, members are more forgiving when the issue is apparent and one that can easily be pinpointed to a common vendor, in this case a utility company they too have to deal with. But according to the same survey, 45% of unplanned downtime is due to hardware failure, 35% of businesses lost access to a business critical application, and 12% could not recover lost data in disasters in 2017. These issues are not as easily understood or forgiven and in large part are completely preventable with acombination of modern core technology and trusted IT professionals at your disposal.
In the case of hurricanes, thanks to modern meteorological advancements, we have ample notice of the incoming storms. As Hurricane Florence was forming off the coast of the Carolinas, for example, credit unions in the possible impact zone should have been contacted by vendors taking precautionary measures. Tiffany Bush, CEO of Lincoln National FCU in Greensboro North Carolina shared that an IT professional from her core processing provider "called me several times to check on us and verify everything was okay. He also assisted in precautionary measures in event of a power outage or flooding." While Lincoln National FCU was spared the brunt of Florence, the steps their core provider took to deliver peace of mind gave them confidence in their DRP and that their member data would be safe.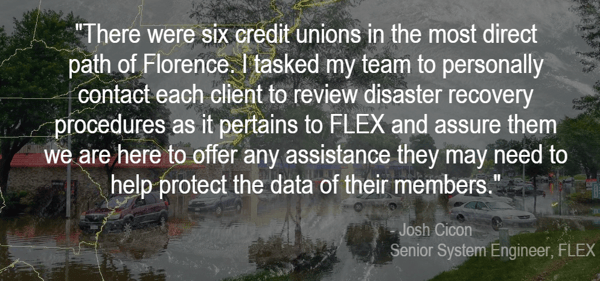 How can you be sure your vendors are as prepared to assist you during possible disasters? Ask to see their own Disaster Recovery Plan - both for how they respond to clients in the impact zone as well as their internal plan should disaster strike them directly. Get them involved in testing and revising your plan. Set expectations of the support you anticipate they will provide during times of distress. Hold them to high standards when it comes to delivering on their failover and data restoration time to recovery. Their responsiveness during normal operations should be telling of how they will ensure your credit union does not become a negative statistic in the event of a disaster.